---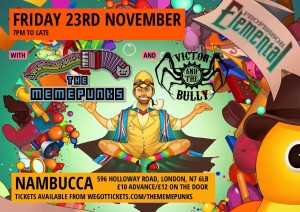 Everyone's favourite tea-guzzling, pith helmet-rocking, chap hop impresario, Professor Elemental returns to Nambucca to perform tracks from his newest album, School of Whimsy, as well as favourites like All In Together and Cup Of Brown Joy.
Support comes from madcap duo Victor and the Bully, who combine influences as diverse as cabaret, swing, mariachi and metal into a steampunk extravaganza not to be missed. And of course London's premier alternative covers and mash-ups band, The Memepunks.
DJs Andy RavenSable and Demondaz until late. Tickets £10 in advance, £12 on the door.
Leave a Reply